Data Science in Detail: Veera Ganesh Ponugoti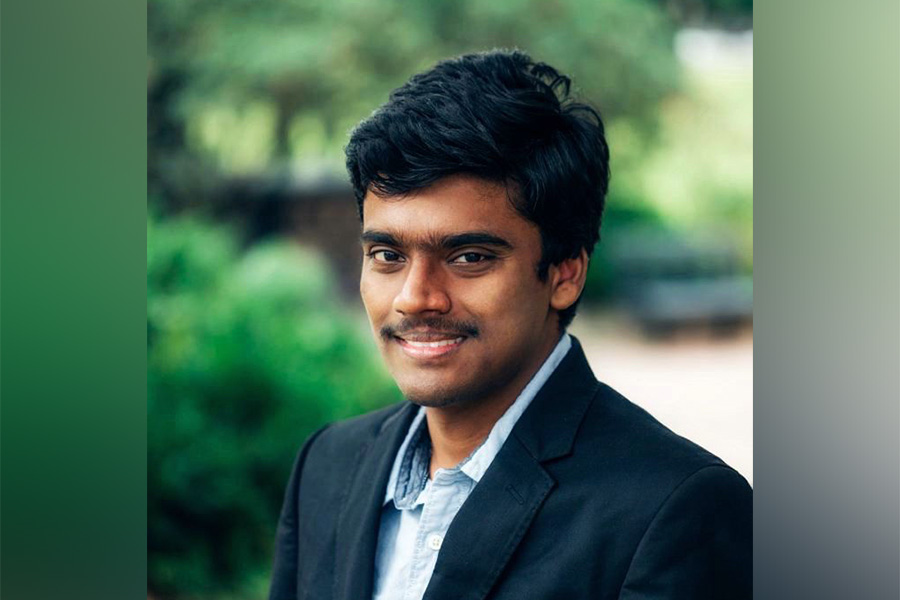 Veera Ganesh Ponugoti is working toward a master's degree in data science from the Florida State University Interdisciplinary Data Science Master's Degree Program, part of the College of Arts and Sciences. Prior to his time at FSU, Ganesh Ponugoti earned an undergraduate degree from Gudlavalleru Engineering College in India.
What year are you in school, and when do you expect to graduate?
I am currently in the final term of earning my master's degree in the data science program here at Florida State University and I will be graduating in December 2022.
Where are you from, and what made you choose FSU?
I am from the southern part of India. I graduated with a bachelor's degree in computer science from Gudlavalleru Engineering College, Andhra Pradesh. Upon graduation, I worked for two-and-a-half years as a software developer at Tata Consultancy Services, a multinational company. While working there I realized the importance of data and how it plays a key role in making business decisions. I made the challenging decision of pursuing a master's degree and upgrading my skills to gain a deeper knowledge about data. When I started exploring the available options, I was fascinated by the fact that FSU is one of the nation's elite universities. Its heritage and strength in STEM disciplines captured my interest. I believed this university would help me meet my career goals so I applied to the program and joined the university in the fall of 2021.
What inspired you to choose your major and specific area of research?
As I started exploring the coursework, I was surprised by how mathematics and programming were used in solving real-world problems by utilizing available data. My experience with programming helped me to understand the field of data science at a fundamental level. I was impressed by the way data science is evolving in the fields of health care and cybersecurity, and I developed a strong interest in this field.
How did you first learn about FSU's IDS program?
When I started looking for a program that would equip me with the skills required to be a data scientist, I came across the IDS program offered by FSU. The courses from four different majors, in addition to coursework in data ethics and data handling, made this program stand out from the others.
What on-campus resources have helped you achieve success?
The FSU Career Center and University Libraries are some of the best resources that have helped me during my coursework. Career liaisons conducted résumé reviews and provided their valuable feedback to help me shape my résumé. The career fairs conducted at the university helped me to reach out and introduce myself to potential employers.
Are there any faculty or staff who have helped or inspired you? Why/how so?
While there are many professors here who have inspired me with their projects and contributions to their field, if I were to mention one person who helped me personally it would be Jennifer Clark, IDS program administrative director. She provided continuous support during my study here. Her frequent postings of the latest opportunities and news related to data science guided me in getting an internship opportunity at Mayo Clinic during the summer of 2022. During this internship, I worked on a kidney stone composition analysis project to characterize the stones through a technique called Fourier-transform infrared spectroscopy. More specifically, I worked on artificial intelligence models that analyzed the spectrum generated by this technique and identified the chemical composition of the stones, models which were later utilized by clinicians. We used Python, Docker, and Azure for coding to prepare the models for production.
What has been your favorite thing about the IDS Program so far?
My favorite thing about the IDS program is the course offerings from four different majors — mathematics, statistics, computer science and computational science. It gave me the opportunity to choose my courses from the major that interest me. Additionally, the Professional Development Seminar class emphasized developing strong presentational skills, and I got the opportunity to interact with people working in this field.
Following your graduation, what are your plans?
As I will be graduating in December 2022, I have started applying for full-time roles. I am looking for an opportunity that allows me to implement all my skills achieved during my program. With that being said, I am open to any conversations relating to data science. The best way to reach me is through LinkedIn at Veera Ganesh Ponugoti.